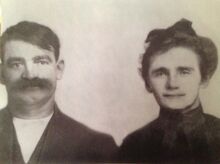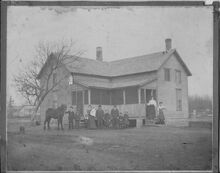 Parents & Ancestry
Edit
Children
Edit
Frank and Christina had 12 children.
As of 1910, they had had 7 children and 6 were still living.
Rosa "Rosie" Fencl [Jun] Edit
Born on January 22, 1888 in Nebraska
Married Joseph Jun

Born on June 7, 1877
Died on May 21, 1947
Table Rock Argus, April 24, 1947. Joseph Jun Commits Suicide At DuBois. DuBois Retired Farmer Shoots Self on Monday At His Home; Funeral Held Here. Funeral services were held at the Kovanda Chapel Wednesday afternoon for Joseph Jun, 70, who committed suicide Monday morning in a barn at his place at the northwest edge of DuBois. The Juns had been residents of DuBois only a month, moving in from a farm nearby. Mr. Jun had been a resident of the DuBois vicinity for the past 63 years. Burial was made in the Bohemian cemetery southwest of Humboldt.

Children: Otto, Milton, and Emilie
Died on August 3, 1960
Buried in Bohemian Cemetery
William "Will" Fencl, Sr. Edit
Born on July 14, 1890 in Nebraska
Married Josefa Cermak

Born on August 8, 1899 in Bohemia
Died on October 16, 1983 in Humboldt, NE

Children: William F. "Will" Fencl, Jr.

Born on April 10, 1922 in Humboldt, NE
Served in the Army in World War II
Married Marie Lottie Findeis on December 31, 1942
Died on July 6, 1985 in Humboldt, NE
Buried in Bohemian Cemetery

Died on June 3, 1984 in Table Rock, NE
Buried in Bohemian Cemetery
Lillie Fencl Edit
Born in 1892 and died the same year, no specific dates found yet
Buried in Bohemian Cemetery
Charlie H. Fencl Edit
Mary Mae Fencl [Todd] Edit
Born on February 2, 1895 in Humboldt, NE
Married Everett Walter Todd

Born on March 26, 1895 in Missouri
Died on January 28, 1981

Died on June 7, 1939 in Humboldt, NE
Buried in Humboldt Cemetery
Links:
Barbara Bernice Fencl [Rexroth] Edit
Born on February 14, 1897 in Nebraska
Died on June 19, 1935
Buried in Humboldt Cemetery
Links:
Spouse: Frederick Charles "Fred" Rexroth

His mother was born in Switzerland
Born on April 21, 1890 in Nebraska
Remarried after Barbara's death
Died on January 14, 1976 in Du Bois, NE

Child: Helen Bernice Rexroth [Iliff]

Born October 28, 1918
Died March 31, 1995
Buried in Heim Cemetery in Dawson, NE
Find-a-Grave: Daughter of Fred & Barbara (Fencil) Rexroth, she was born near Humboldt. Married Aug. 24, 1943 to Don Iliff at Seneca, KS. The couple lived on a farm near Dawson, NE for 35 years. Mother of Linda and William.
Spouse: Donald Howard Iliff

Married August 24, 1943 in Seneca, KS

Children: Linda and William

Child: Leonard C. Rexroth

Born February 15, 1920
Died December 9, 1995
Buried in Humboldt Cemetery in Humboldt, NE
Spouse: Bernice Deubelbeiss
Find-a-Grave: Married 10-14-1939 to Bernice I Deubelbeiss, parent of Barbara, Charlotte & Larry

Child: Lee Fredrick Rexroth

Born July 30, 1921
Served in the Navy in WWII
Died May 14, 1992
Buried in Kelseyville Cemetery in Kelseyville, CA

Child: Hazel M. Rexroth

Born c. 1924
Maybe her:

Hazel Rexroth [Anderson]
matches name, approximate birth date, and parents' names

Maybe her:

Child: Lucile E. Rexroth
Child: Melvin C. Rexroth

Born July 16, 1927
Died April 8, 1995
Social Security Death Index (matches name and approximate birth date; source for exact birth and death dates)

Child: Barbara A. Rexroth
Albert J. Fencl Edit
Emma Mae Fencl [Rexroth] Edit
Born on December 12, 1900 in Nebraska
Married Edward John Rexroth

Born on March 12, 1895 in Nebraska
Died on February 20, 1969 in Humboldt, NE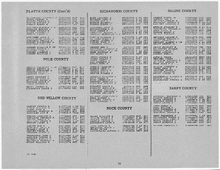 Child: Clinton A. Rexroth
Child: Clema Rexroth
Died on January 19, 1991 in Nebraska
Buried in Humboldt Cemetery
Links:
Bertha B. Fencl [Banzhaf] Edit
Born on August 28, 1903 in Nebraska
Died on April 12, 1995 in Nebraska
Buried in Humboldt Cemetery
Links:
Spouse: William A. Banzhaf

Born on June 6, 1904
Died on October 27, 1975

Child: Gerald Dean Banzhaf

Born July 14, 1928
Died August 19, 1989

Child: Joan M. Banzhaf
Harry Fencil Edit
Main page: Gladys Mae Spaulding
Born June 25, 1905
Married Gladys Mae Spaulding
Two step-children and four children
Died February 16, 1980
Buried in Heim Cemetery in Dawson, NE
Agnes M. Fencl [Freeland] Edit
Born on August 9, 1907 in Pawnee County, NE
Died on May 23, 1989 in Lancaster County, NE
Buried in Lincoln Memorial Park in Lincoln, NE
Links:
Spouse: Carl Freeland

Born on September 7, 1906
Died on October 23, 1980

Child: Coddy Rogene Freeland
Child: Share Lynne Freeland
Milton Fencl Edit
Timeline
Edit
Frank is born
Celestina is born
Frank and Christina are married
1888
January 22
daughter Rosie is born
1890
July 14
son Will is born
1892
daughter Lillie is born
1892
daughter Lillie dies
1893
February
son Charlie is born
1895
February 2
daughter Mary is born
1897
February 14
daughter Barbara is born
1899
January 22
son Albert is born
1900
June 12
US Federal Census
Pawnee County, Nebraska
December 12
daughter Emma is born
1903
August 28
daughter Bertha is born
1905
June 25
son Harry is born
1907
August 9
daughter Agnes is born
1911
July 11
son Milton is born
1915
son Charlie dies
Documents & Articles
Edit
FindAGrave.com
Edit
FamilySearch.org profile
Edit
1900 US Federal Census
Edit

Main page: USFC 1900 Frank Fencl
June 12, 1900
Sheridan Precinct, Pawnee County, Nebraska
Frank and Christina have been married 14 years. They have 6 children now. There was one more child that died.
Frank is naturalized.
Name
Role
Date of Birth
Age
Birthplace
Immigrated
Occupation
Fenzel
Frank
Head
Aug
1863
36
Bohemia
1866
Farmer
Christina
Wife
1869
32
Bohemia
1874
Rosa
Daughter
Jan
1889
11
Nebraska
At School
William
Son
July
1891
8 [?]
Nebraska
At School
Charles
Son
Feb
1893
7
Nebraska
At School
Mary
Daughter
Aug
1895
5
Nebraska
Barbary
Daughter
Feb
1897
3
Nebraska
Albert
Son
Jan
1899
1
Nebraska
1910 US Federal Census
Edit

Main page: USFC 1910 Frank Fencl
There is another Frank Fencl household on the same page, included in the cropped image
1920 US Federal Census
Edit

1930 US Federal Census
Edit

1940 US Federal Census
Edit
Frank Fencl
Edit
| Item | | Information | Sources |
| --- | --- | --- | --- |
| Birth | Date | August 1863 | 1900 US Federal Census |
| | | c. 1867 | 1920 US Federal Census |
| | | c. 1868 | 1910 US Federal Census |
| | Place | Bohemia | 1900 US Federal Census |
| | | Austria | 1910 US Federal Census |
| | | | 1920 US Federal Census |
| Immigration | Date | 1865 | 1920 US Federal Census |
| | | 1866 | 1900 US Federal Census |
| | | 1870 | 1910 US Federal Census |
| Naturalization | Date | 1870 | 1920 US Federal Census |
| Marriage | Date | c. 1886 | 1900 US Federal Census |
| | | c. 1889 | 1910 US Federal Census |
Celestina Karas
Edit
| Item | | Information | Sources |
| --- | --- | --- | --- |
| Birth | Date | 1869 | 1900 US Federal Census |
| | | c. 1870 | 1910 US Federal Census |
| | | c. 1871 | 1920 US Federal Census |
| | Place | Bohemia | 1900 US Federal Census |
| | | Austria | 1910 US Federal Census |
| | | | 1920 US Federal Census |
| Immigration | Date | 1865 [?] | 1920 US Federal Census |
| | | 1874 | 1900 US Federal Census |
| | | 1877 | 1910 US Federal Census |
| Naturalization | Date | 1870 | 1920 US Federal Census |
| Marriage | Date | c. 1886 | 1900 US Federal Census |
| | | c. 1889 | 1910 US Federal Census |
| Children | | 6 living, 7 total | 1900 US Federal Census |
| | | 10 living, 11 total | 1910 US Federal Census |