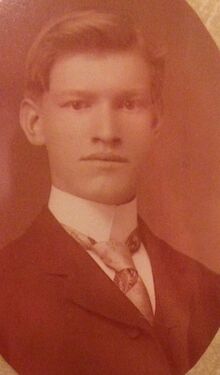 Wilhelm (William) Fridolf Winblad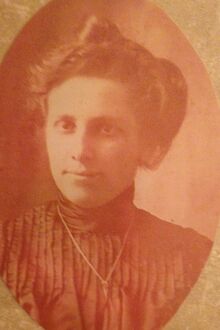 Rena Koksma [Winblad]
Born in 1881 in Holland
Died in 1904 in Minnesota
Parents were John Koksma & Frances DeVries
Buried with her parents in Rosehill Cemetery in Hinckley, MN
Wilhelm & Rena
Married on January 18, 1902
Had 1 child: Wilma Frieda Winblad
Biography
Edit
Wilhelm Winblad was born in Sweden. He and his parents immigrated to the United States in 1888.
Rena Koksma was born in Holland (the Netherlands). She immigrated to the USA.
Wilhelm & Rena married on January 18, 1902.
William became sick with tuberculosis and was sent away to a better climate. He recovered from TB, but his health continued to decline. He returned to Minnesota and died at his parents' house. He was 21 years old and he and Rena had only been married about 9 months.
About a month after Wilhelm's death, Rena gave birth to baby Wilma on June 29, 1903.
Rena died sometime in 1904, about a year after her daughter's birth, at about 23 years old. Her official cause of death was "cancer of the liver and spleen", but Wilma always said her mother died of a broken heart.
Wilhelm and Rena are not buried together.
Children
Edit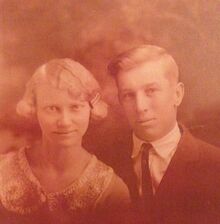 Wilhelm and Rena had one child.
Wilma Frieda Winblad [Nyberg] Edit
Wilma was born on June 29, 1903, about a month after her father's death, and was named for her father. About a year later, her mother also died. Orphaned Wilma was then raised by her mother's parents, John and Frances Koksma, and sister, Fronie Koksma. Wilma died on December 13, 1985.
She married Oscar Nyberg.
They had 8 children: 6 girls and 2 boys.
Gladys, Dorothy, Donna, Paul, Irene, Annette, Leonard, Jeanice
As of 2016, 5 of these are still living
Wilma and Oscar are buried in Rosehill Cemetery in Hinckley, MN.
Links:
Timeline
Edit
| | | |
| --- | --- | --- |
| | 1881 | Rena is born in Holland |
| December 4 | 1881 | Wilhelm is born in Sweden |
| | 1888 | Wilhelm immigrates the USA with his parents |
| January 18 | 1902 | Wilhelm and Rena are married |
| April 20 or 22 | 1903 | Wilhelm dies |
| June 29 | 1903 | daughter Wilma is born |
| | 1904 | Rena dies in MN |
Documents & Articles
Edit
Find-a-Grave
Edit
Sweden Indexed Birth Records
Edit
| | |
| --- | --- |
| given name | Wilhelm Fridolf |
| birth date | December 4, 1882 |
| birth place | Pjätteryd, Kronoberg, Sweden |
| father | Peter August Winblad |
| mother | Clara Magnidotter |
| mother's age | 23 |
Iron Range Research Center
Edit
Minnesota Deaths and Burials - Wm. F. Winblad
Edit
| | |
| --- | --- |
| Name | Wm. F. Winblad |
| Gender | Male |
| Death Date | April 22, 1903 |
| Death Place | Miloca, Mille Lacs, Minnesota |
| Age | 21 |
| Birth Date | 1882 |
| Father's Name | Peter A. |
| Mother's Name | Clara |